FLIR T600bx Series Thermal Imaging Cameras
Now featuring UltraMax™
You need troubleshooting tools that can help you find and report equipment problems fast. That's exactly what T600 Series cameras do. They let you see invisible heat caused by electrical resistance and mechanical wear early enough to help you head off expensive downtime and potential danger.
Watch the video to learn why no other line of infrared cameras makes it easier to capture images, share findings, and get more done with time to spare. And be sure to ask for an onsite demonstration to see firsthand why T600 Series is the ultimate way to unleash the power of FLIR. Contact Us for more information.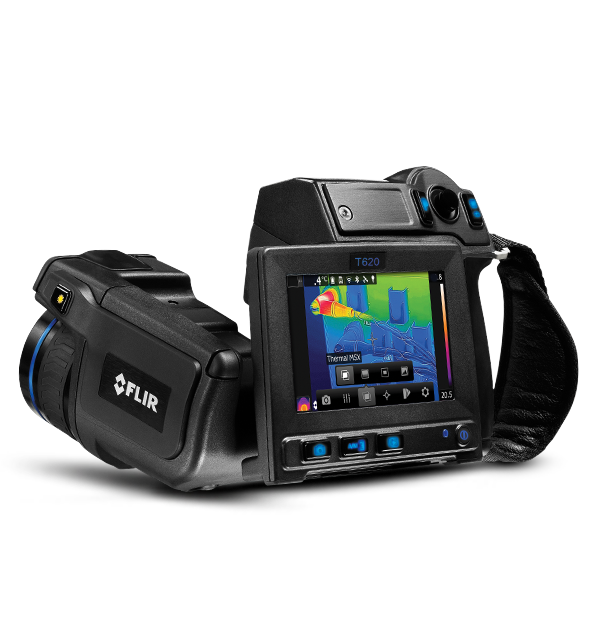 Ultimate Resolution & Sensitivity
FLIR's Best Handheld Imagery and Accuracy
3 superior thermal imaging choices including 640 × 480 native resolution
Up to 1.2 MP thermal resolution with UltraMax™ – a 4× improvement for finer detail and accuracy
MSX

®

enhancement that etches key visible details such as numbers, labels, etc. onto live, stored, and UltraMax thermal images for easier locating
Class-leading sensitivity as fine as <0.02°C for outstanding image quality and subtler thermal patterns
Temperature range calibrations up to 2,000°C for measuring the hottest targets
Optimum Ergonomics
Cover All the Angles - Image Faster - Work More Comfortably
Superior Handheld Imagery And Accuracy
OPTIMAL ERGONOMICS

The T600's optical block rotates 120° for easier targeting, while auto-orientation means the screen is always easy to read.

EFFICIENCY AND PRODUCTIVITY

From the touchscreen to GPS/compass annotations and on-screen sketch, the T600's features improve efficiency and boost productivity.

FAST COMMUNICATION

Connect (Wi-Fi) to FLIR Tools Mobile for image analysis and sharing, or transmit test & measurement data to the camera via METERLiNK®.
SPECIFICATIONS
OVERVIEW
Built-in Digital Camera

5 Mpixels with LED light (photo as separate image)
Color alarm (isotherm)

Above/below/interval
Compass

Camera direction automatically added to every still image
Detector Type

Focal plane array (FPA), uncooled microbolometer
Difference Temperature

Delta temperature between measurement functions or reference temperature
Focal Length

41 mm (1.63 in.)
Housing material

Magnesium
IR Resolution

640 × 480 pixels
Laser

Activated by dedicated button
Laser Alignment

Position is automatic displayed on the IR image
Laser Classification

Class 2
Laser Type

Semiconductor AlGaInP diode laser, 1 mW, 635 nm (red)
Packaging Size

495 x 192 x 370 mm (19.49 x 7.56 x 14.57 in.)
Report Generation

Instant Report (*.pdf file) in camera Separate PC software with extensive report generation
Screening

Difference temperature alarm, audible
Spectral Range

7.5–14 µm
Tripod Mounting

UNC ¼"-20
FLIR Tools Mobile app [WiFi]

Included
Built-in Illuminator LED

Included
FLIR Tools for PC and Mac

Included
Laser Pointer & Laser Locator

Included
Text

Add table. Select between predefined templates or create your own in FLIR Tools
Time Lapse

15 seconds to 24 hours
Voice

60 seconds (via Bluetooth) stored with the image
Voice & Text Annotation

Included