E710 Laser Shaft Alignment Tool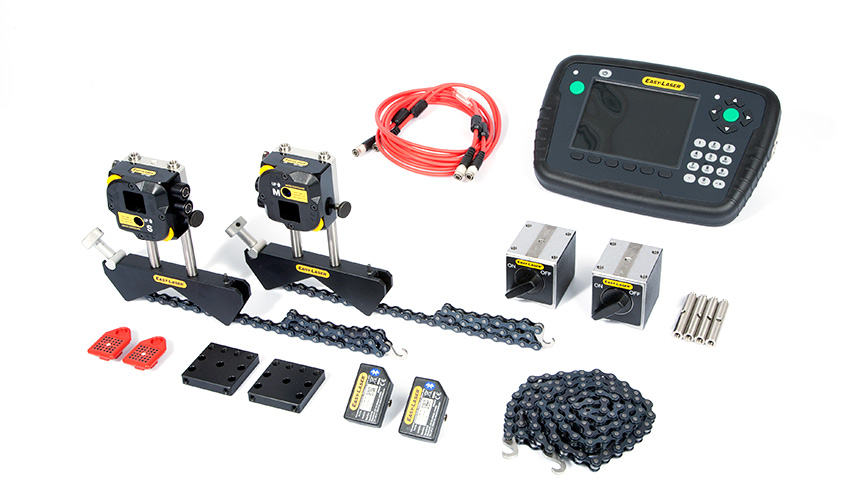 The measuring system for all stages of machine set-up
Easy-Laser® E710 is an alignment system that is complete in its full meaning. It does not just give you all the functions for shaft alignment, it also gives the opportunity to check the machine base and any bearing play using the standard equipment! Programs for soft foot checks, vertical/flange mounted machines, machine trains and cardan/offset mounted* machines are also included. Using the accessories you can also align sheaves and pulleys with digital precision and check vibration levels. No other system on the market can offer this flexibility! Large, clear colour screen, wireless measuring units (included as standard), long operating life and robust design give a measurement system that is both reliable and easy to use.
Easy to use = fast and efficient
When we talk about simplicity we mean several things, for example, simple to place or mount the measurement equipment on the measurement object, easy to perform the measurement and easy to interpret the measurement result. With Easy-Laser® E710 you can measure all types of rotating machine, large and small, equally well, regardless of shaft diameter. One new feature is the barcode reader*, which enters the machine dimensions with literally one swipe! This makes it easier for new operators who don't need to search through long lists of machine templates with descriptions that are difficult to understand. Quite simply, easier to do correctly!
Wireless measuring units (laser/detector) enable you to work more freely. The measurement values can be registered with only 40° rotation of the shafts. You can then align it "live" using the measuring units in any position around the shaft. The read off unit program is available in several different languages which facilitates use; English, Spanish, German, French, Portuguese, Chinese, Japanese, Korean, Italian, Dutch, Russian, Polish, Finnish and Swedish. The programs guide you step-by-step through the measuring procedure for the perfect measuring result.
A COMPLETE SYSTEM CONTAINS:
1 Measuring unit M
1 Measuring unit S
1 Display unit
2 Bluetooth® wireless units
2 Cables 2 m
2 Shaft brackets with chains
2 Extension chains
2 Magnet bases
2 Offset brackets
4 Rods 120 mm
4 Rods 60 mm
1 Manual
1 Quick manual
1 Measuring tape 3 m
1 USB memory
1 USB cable
1 Charger (100–240 V AC)
1 Toolbox
1 Shoulder strap for display unit
1 Optical cleaning cloth
1 CD with documentation
1 Carrying case

CHARACTERISTICS AND FUNCTIONS:
All the programs and functions you require for rotating machines
Bluetooth® wireless connection – enables you to work more freely
Endurio™ Power management system – for extra long operating times
Barcode system for documentation – starts the measuring work quicker
EasyTurn™ function – offers down to 20° between measuring points
Alignment "live" anywhere around the shaft (360°)
Program in several languages – means that it is easier to learn and use
Expandable – adaptable to your needs, now and in the future
3 year warranty – reassurance for you
The barcode reader is used to enter the machine dimensions with literally one swipe. Then it is just a question of continuing the measurement procedure. It couldn't be quicker and easier!
Reliability requires the right equipment
Both your machines and your measuring equipment need to be reliable for the best overall economy. Easy-Laser®E710 is developed for both long operating times and a long lifecycle. Our unique Endurio™ power management system, for example, gives up to 30 hours of operating time for the display unit in a normal user cycle. The measuring system has a very robust and compact aluminium design, without any sensitive small parts. The measuring units are also water and dust proof to classes IP66 and IP67. Easy-Laser® E710 can therefore withstand rough handling and work with the greatest precision in the most demanding environments, year after year. The system has a wide range of applications in the standard version. By using clever accessories, you can adapt the systems for your own needs, now and in the future as your measurement requirements change. It is cost-effective and far-sighted. Easy-Laser® is a dependable and safe choice from every point of view.
New Easy-Laser® E710 gives your machines all the conditions for optimal service life. Expensive unplanned stoppages can often be avoided. Aligned machines also reduce energy consumption and reduce the need for replacement parts. It is profitable for your operation, and makes an important contribution to sustainable development and a better environment.
*Bar code reader and cardan fixture are accessories.