Wireless and digital tool for alignment of sheave/pulleys.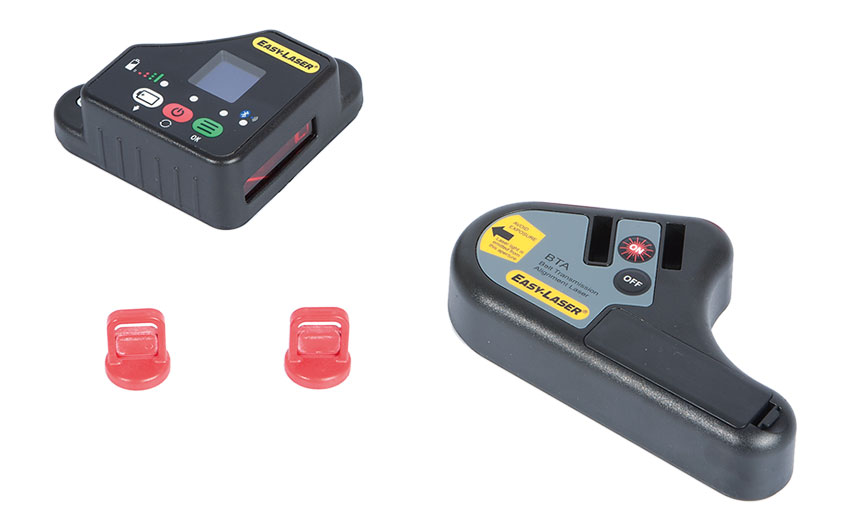 EasyThe Easy-Laser® E180 allows even more accurate and efficient alignment of sheaves/pulleys! Easy-Laser® is unique to the market in being able to offer digital read off. Digital readings allow greater precision, and combined with one of our display units*, make it easier to follow the belt manufacturer's tolerances and results are documented directly as a PDF. This is a unique characteristic that gives advantages in the long term, not least in the service life of belts and sheaves/pulley.
Follow the adjustment on the integrated OLED display or on the separate display unit*. The adjustment values are always displayed live, which makes alignment easy. Using a separate display unit makes it even easier, as you can follow the machine's adjustment continuously at the point where adjustment is being carried out. In addition, the machine's shim and adjustment values are automatically calculated! It is also possible to read off visually on targets (included).
Compared with old methods such as rulers, the alignment is more accurate and efficient when both horizontal and vertical adjustment is carried out at the same time. In addition, the work can be carried out by one person alone, in a significantly shorter time. Installation on the sheave/pulley occurs using powerful super magnets. The tool can be used on all types of sheave/pulley, such as v-belt, timing belt, flat belt and chain drives. If you have aluminium sheaves/pulleys, the low weight of the tool means that it can instead be attached using strong double sided tape.
* Note: The display unit is not included in E180. For those working with rotating machines, E180 BTA is the perfect complement to the E710, E540 and E530 shaft alignment systems. (E180 can be used with E51 and E52 display units using BTA program.)
System D180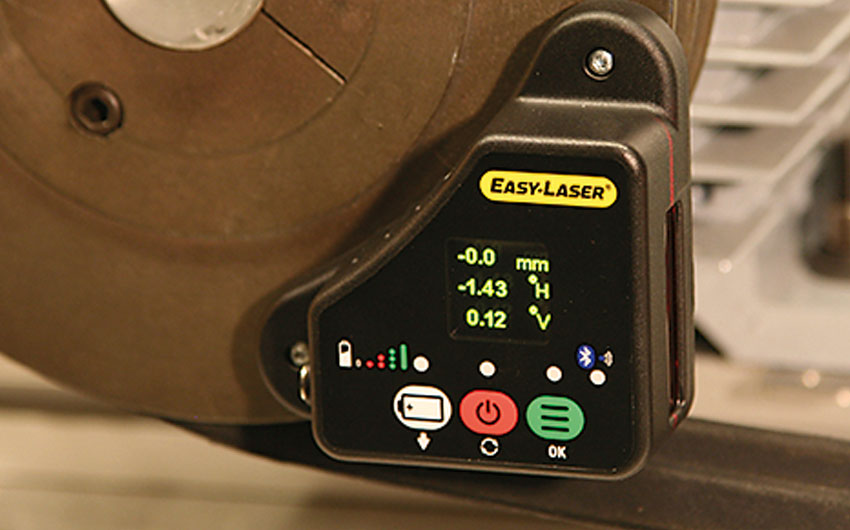 A COMPLETE SYSTEM CONTAINS:
1 Laser transmitter
1 Detector unit
2 Targets
1 Charger (100-240 V AC) with cable
1 Manual
1 Carrying case

CHARACTERISTICS AND FUNCTIONS:
Live digital offset and angle display readings
Integrated Bluetooth® wireless technology and rechargeable battery (detector)
Connects to display unit E51/E52 for documentation possibilities
Magnetic mounting for quicker installation
Can also be attached using tape on non-magnetic pulleys thanks to low weight
Works on all types of pulley without special accessories
Also for pulleys of different widths
For both horizontally and vertically mounted machines
No training required for use
One person can perform alignment
Facilitates alignment and adjustment of belt tension at the same time
Significantly faster and easier than ruler and cord
3 year warranty
Connect to display unit
Easy-Laser® E180 detector unit can be connected to our display unit E51 or E52 which is included in shaft alignment systems E710 and E540 for example. The pulleys' mutual parallelism is shown graphically and digitally with adjustment and shim values for the machine's foot pair. This unit also allows you to save, print out and transfer the measurement results to a PC, in the same way as for normal shaft alignment.
BTA" Program in E51 or E52 display units: You can set a tolerance of 0.10° to 0.50°, or your own value. Shims and adjustment values are displayed live. Green=within tolerance, Red=outside tolerance.