D130 - EX Rated Pulley Alignment Tool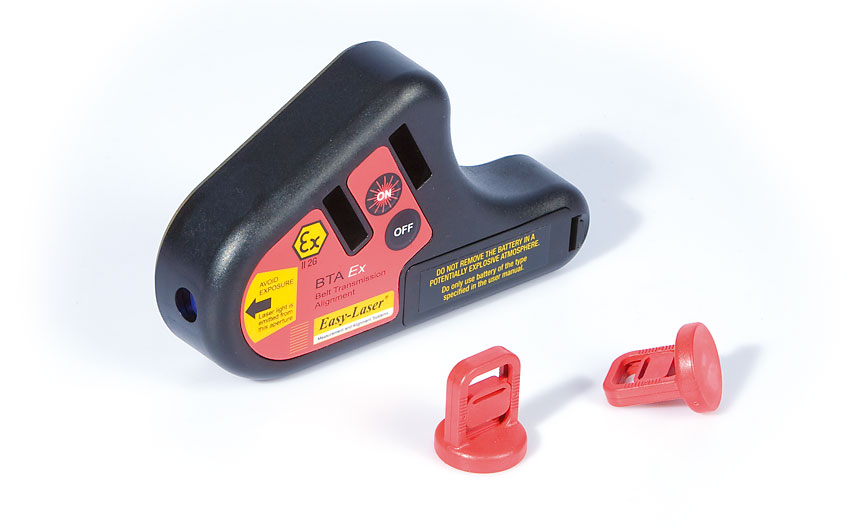 Quick and easy alignment of sheaves/pulleys in ATEX / Ex environments
Intrinsically safe and approved for use in potentially explosive environments. The tool is fitted in a few seconds, and the laser line projected on the targets clearly shows how you need to adjust the machines. Compact and light. Suitable for most types of drive, such as V-belt, timing belt, flat belt and chain drives.
Fulfils the requirements according to: EEx ib IIC T3 Ta: 10–50 °C / Ex ib IIC T3 Ta: 10–50 °C
ATEX code: II 2 G
EX certificate number: Nemko 06ATEX1235X
IECEx certificate number: IECEx NEM 06.0003X

System D130
A COMPLETE SYSTEM CONTAINS:
1 Laser transmitter
2 Targets
1 Manual
1 Cover Ex

CHARACTERISTICS AND FUNCTIONS:
Intrinsically safe, ATEX / Ex / IECEx approved for use in potentially explosive environments
Easy-to read targets
Magnetic mounting for quicker installation
Can also be attached using tape on non-magnetic pulleys thanks to low weight
Works on all types of pulley without special accessories
Easily adjustable for pulleys of different widths
For both horizontally and vertically mounted machines
No training required for use
One person can perform alignment
Facilitates alignment and adjustment of belt tension at the same time
Readings only need to be taken from one pulley and not both
Significantly faster and easier than ruler and cord
2 year warranty